Come, Meet My Father!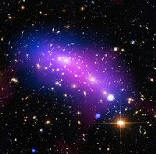 He is so great that the earth cannot limit him . . . nor even can the universe which He created. You and I have always been in his consciousness before time began . . . who your parents would be, where they and you would live, how tall you would grow, what skills, abilities and interests you have, your health conditions . . . even the day and time when you will die.
He knows your daily comings and goings. Actually, it is hard to imagine how deeply He knows and loves his creation and desires that his people love him in return through every joy and every trial which they experience. Why? Because he knows you so well that each event, each thought to your mind is shaped in such a unique and special way that your response becomes a unique and special opportunity to show your creator God how much you love him. After all, what loving parent would not graciously accept or respond to even the smallest sign of affection offered by their child?
"Where can I go from your spirit? From your presence where can I flee? If I go up to the heavens, you are there; if I sink to the nether world, you are present there. If I take the wings of the dawn, if I settle at the farthest limits of the sea, even there your hand shall guide me, and your right hand hold me fast. If I say, 'Surely the darkness shall hide me, and night shall be my light - For you darkness itself is not dark, and night shines as the day.'" (Psalm 139:7-12)

You might ask, "How do I know this is true!"
He gave the world a sign of His love . . . ME! . . . HIS DIVINE SON!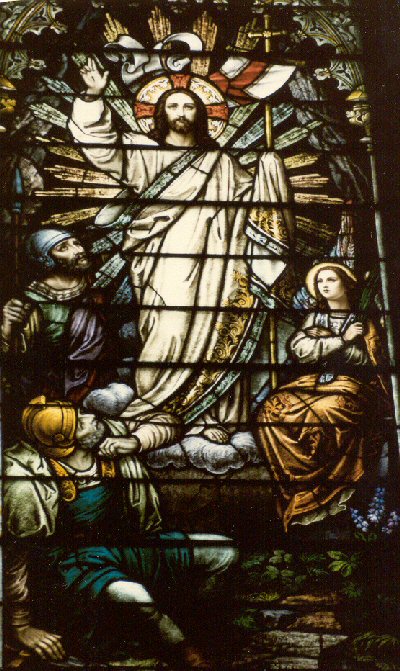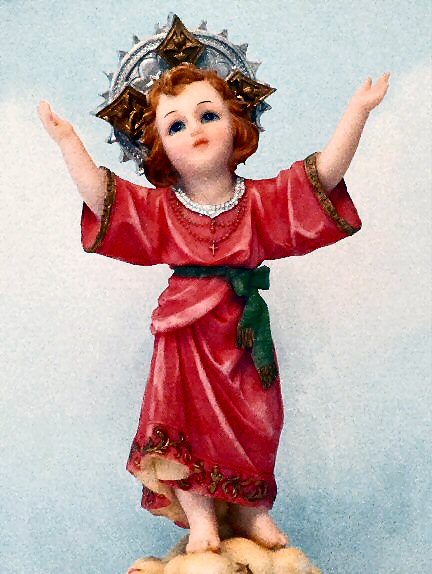 "For a child is born to us, a son is given us; upon his shoulder dominion rests. They name him Wonder-Counselor, God-Hero, Father-Forever, Prince of Peace. His dominion is vast and forever peaceful, from David's throne and over his kingdom, which he confirms and sustains by judgment and justice, both now and forever. The zeal of the Lord of hosts will do this!" (Isaiah 9:5-6)
and . . . Mary, a young woman was ASKED if she would become My Mother!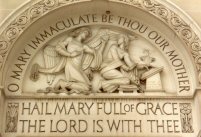 My father sent an angel to Mary, a young virgin of about 13 or 14, with the request that she accept His plan for the salvation and redemption of humankind by becoming the mother of His Son through the power of the Holy Spirit. The angel said to her,
"You shall conceive and bear a son and give him the name Jesus. Great will be his dignity and he will be called Son of the Most High. The Lord God will give him the throne of David his father. He will rule over the house of Jacob forever and his reign will be without end." (Luke 1:31-33)
and . . . Joseph became the head of our little family!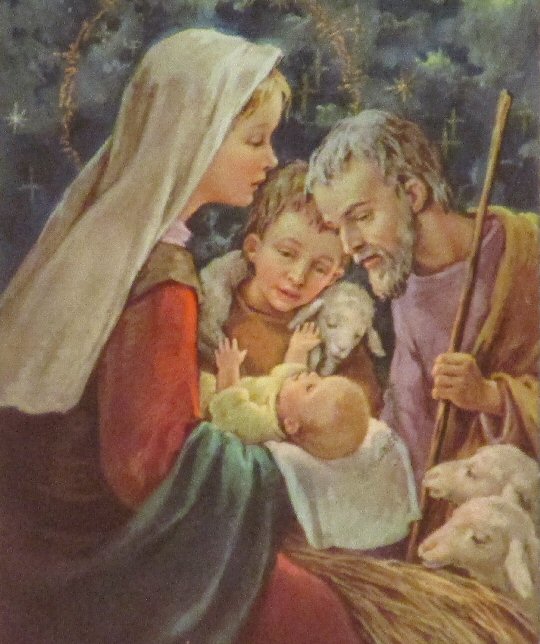 ". . . and so Joseph went from the town of Nazareth in Galilee to Judea, to David's town of Bethlehem - because he was of the house and lineage of David to register with Mary his espoused wife who was with child. While they were there, the day of her confinement were completed. She gave birth to her first-born son and wrapped him in swaddling clothes and laid him in a manger, because there was no room for them in the place where travelers lodged." (Luke 2:4-7)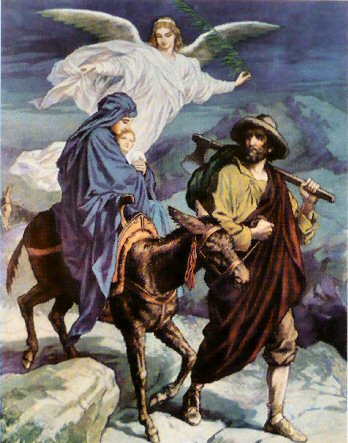 Later, ". . . the angel of the Lord suddenly appeared in a dream to Joseph with the command: 'Get up, take the child and his mother, and flee to Egypt. Stay there until I tell you otherwise. Herod is searching for the child to destroy him.' Joseph got up and took the child and his mother and left that night for Egypt." (Matthew 2:13-14)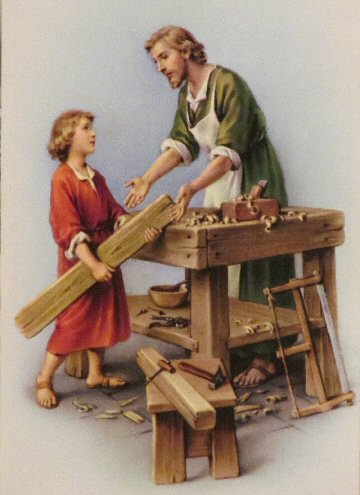 Joseph worked hard to provide shelter, food, and safety when he took us to another country, this time to protect me from danger. Joseph took care of Mary and me during my early years. From Joseph, I learned the skills of the carpenter's trade; and yes, I even cut myself.
On one hand, each person is responsible for accepting and following the standards of correct acting revealed by my father over the years through his prophets, and then by me, his son. On the other, by more than teaching, I personified the depth of my father's love by making redeeming payment by my death on a cross for the insult against him by the first humans he created.
". . . for God so loved the world that he gave his only Son, so that everyone who believes in him might not perish but might have eternal life. God did not send his Son into the world to condemn the world, but that the world might be saved through him." (John 3:16-17)
How deep is my Father's love for you?
His love is so overwhelming that he has repeated his message over and over through the years in the form of covenants and the prophets who were inspired to announce my coming. He commissioned me to form the church through which the infinite graces earned by my redemptive act flow. My Father's plan is that every person he creates not only accept his love, but cares for each other using the gifts offered through the Holy Spirit. These gifts draw everyone closer to God my Father and actualize his love in every receptive person.
"Whoever believes in me believes not only in me but also in the one who sent me. I came into the world as light, so that everyone who believes in me might not remain in darkness. And if anyone hears my words and does not observe them, I do not condemn him, for I did not come to condemn the world but to save the world. Whoever rejects me and does not accept my words has something the judge him: the word that I spoke, it will condemn him on the last day, because I did not speak on my own, but the Father who sent me commanded me what to say and speak. And I know that his commandment is eternal life. So what I say, I say as the Father told me." (John 12:44-50)
The result is final and eternal joyful union with my Father and myself. I paid the price for your return to favor with my Father through my suffering and painful death on the cross. Everyone who actualizes my Father's love through these gifts merits eternal happiness in heaven in union with the Holy Spirit who inspires you to use these gifts, with the holy angels who guide you daily in the use of the gifts, with my mother Mary who intercedes to God the Father on your behalf, with Saint Joseph her loving spouse, who was given the responsibility to care for our Holy Family, and with all the saints whose life's examples of cooperating with God's gifts are open for you to study and imitate.
This is the reason why I assumed human nature and became like man . . . to redeem all humanity by offering myself to the Father in satisfaction for the sin of the first parents.
My greatest joy is that one day you will share eternal life with us in heaven forever. Everyone has the opportunity to use the helps freely given by the Holy Spirit who is the personification of the infinite love between me and the Father. When you use the gifts of the Holy Spirit, you become more pleasing and perfected as your heavenly father is perfect.
THESE ARE THE GIFTS THE HOLY SPIRIT GIVES YOU TO USE:
Wisdom - To find joy in the things of God and judge everything according to Godís standards.
Understanding - Helps me to grasp and appreciate the mysteries of Godís love for us.
Counsel - Helps me to see what is best for the glory of God, for mine and my neighborís salvation. Supernatural common sense.
Fortitude - Permits one to face the evils he dreads.
Knowledge - Helps me to recognize the value of created things as they point toward God.
Piety - Helps me to love and respect God out of love rather than duty.
Fear of the Lord - Helps to respect and follow Godís laws because he is our father rather than out of fear.
WHEN USED WELL, THESE ARE THE RESULTS (FRUITS) THAT WE WILL EXPERIENCE:
Charity - Actions driven by love for God and neighbor.
Joy - Helps a person serve God cheerfully.
Peace - The mind is untroubled in face of spiritual or temporal trials.
Patience - Bear the trials of life with resignation to Godís will, not giving in to despair.
Benignity - Kindness, gentleness, sympathy, wishing well for others.
Goodness - Something is pleasing because its worth and value flows from God.
Long-suffering - Christian endurance of evils over a long period of time out of love for God.
Mildness - Gentleness but not softness without strength.
Faith - Belief all that God has revealed because he can neither deceive nor be deceived.
Modesty - Moderation in all things, behavior and dress, respect for the worth of others.
Continence - Voluntarily with oneís partner abstain from legitimate marital intercourse.
Chastity:
Single persons - Exclude all indulgence in and voluntary pleasure from sexual acts.
Married persons - Control of the sexual appetite according to right reason. Intercourse only between husband with lawful wife is chastity.
" . . . I call you friends, since I have made known to you all that I heard from my Father. It was not you who chose me, it was I who chose you to go forth and bear fruit. Your fruit must endure, so that all you ask the Father in my name he will give you. The command I give you is this, that you love one another. (John 15:15-17)
YOU ASK: WHAT IS THE FUTURE?
PERMANENT AND ETERNAL HAPPINESS WITH MY FATHER, MYSELF (His Son), THE HOLY SPIRIT OF LOVE, MY MOTHER, ALL THE ANGELS AND ALL HOLY PERSONS WHO HAVE EVER LIVED.