This is my story!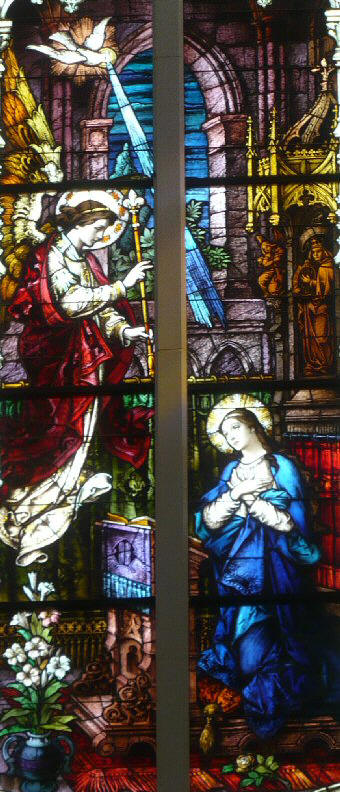 My earthly mother was a young virgin named Mary. That's right! She accepted my father's request who even sent an angel to ask if she would agree to become my mother . . . imagine, she was asked if she would agree to become the mother of God! Happily for everyone, she said yes, and I was conceived by the power of the Holy Spirit, (the Third Divine person of the Holy Trinity, the Divine personification of the Love between God the Father and myself, God the Son).
"In the sixth month, the angel Gabriel was sent from God to a town of Galilee called Nazareth, to a virgin betrothed to a man named Joseph, of the house of David, and the virgin's name was Mary. And coming to her, he said, "Hail, favored one! . . . Do not be afraid, Mary, for you have found favor with God. Behold, you will conceive in your womb and bear a son, and you shall name him Jesus. He will be great and will be called Son of the Most High, and the Lord God will give him the throne of David his father, and he will rule over the house of Jacob forever, and of his kingdom there will be no end. . . . But Mary said to the angel, "How can this be, since I have no relations with a man?" And the angel said to her in reply, "The holy Spirit will come upon you, and the power of the Most High will overshadow you. Therefore the child to be born will be called holy, the Son of God. . . . Mary said, "Behold, I am the handmaid of the Lord. May it be done to me according to your word." (Luke 1:26-38)
The creation of Mary was known by God from the beginning of time, just like you. God prepared her for her honored work by creating her entirely free from sin; she was not even touched by the original sin that all humanity inherits from its first parents named Adam and Eve. However, just like the angels, she did have free will. This is why she was asked if she would freely accept God's invitation to be my mother through whom I would come into the world. Me . . . , a divine person with a human nature.

Shortly before she gave birth, her husband, Joseph, I was born, Mary's husband Joseph, told her they would travel to Bethlehem, his home town, to register in a census ordered by the Roman Caesar Augustus. Mary and I had a really hard trip on our donkey because it was almost time for me to come into the world. The night we arrived in the town, my poor father had to search everywhere for a place to stay. Only after asking at all of the traveler's inns, did he find room in a certain stable for the animals where we stayed for the night. And . . .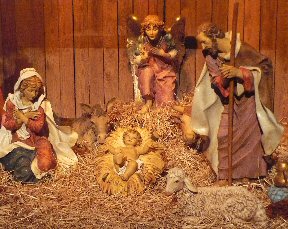 " . . . she gave birth to her first-born son and wrapped him in swaddling cloths and laid him in a manger, because there was no room for them in the place where travelers lodged." (Luke 2:6-7)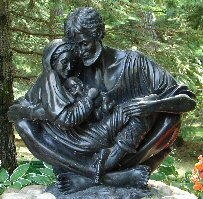 When I was just learning to walk, our little family became refugees. It happened that during a dream, an angel warned my father to take his family and flee for safety to Egypt where we would not be harmed by the soldiers of king Herod who feared losing his position and power because . . .
"You, Bethlehem, land of Judah, are by no means least among the princes of Judah since from you shall come a ruler who is to shepherd my people Israel." (Matthew 2:6)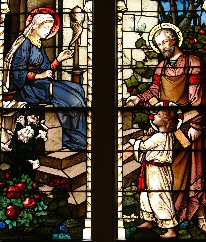 We left Egypt after King Herod died, to settle in a small town in Galilee named Nazareth where my father carried on his carpentry trade.
My hour of public ministry was announced when John the Baptizer told his followers: "Look! There is the Lamb of God who takes away the sin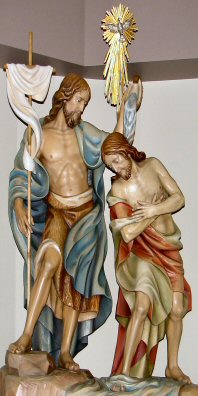 of the world! It is he of whom I said; 'After me is to come a man who ranks ahead of me, because he was before me.' I confess I did not recognize him, though the very reason I came baptizing with water was that he might be revealed to Israel." (John 1:29-32)
John continued . . .
"I saw the Spirit descend like a dove from the sky, and it came to rest on him. But I did not recognize him. The one who sent me to baptize with water told me, 'When you see the Spirit descend and rest on someone, it is he who is to baptize with the Holy Spirit.' Now I have seen for myself and have testified, 'This is God's chosen One.'" (John 1:34-34)
One day there was a wedding celebration in our town to which my mother, myself and several of my friends were invited. During the dinner, my mother noticed a problem . . . there was no more wine. . . You know how mothers are sometimes . . . the happiness of an event cannot be marred by a misjudgment! The problem had to be solved immediately! "SON," she said, "They Have No More Wine!" What was I to do? Here she was, actually asking me to reveal for the first time my divinity to help this soon to be embarrassed young couple. I replied that my time for my ministry had not yet come. What did she do? She called the waiters and told them to do whatever I told them. . . MOTHERS!!! But still, . . the Holy Spirit had prompted her to ask this of me because the time for the redemption of her spiritual children could wait no longer .
Now there were six stone water jars there for Jewish ceremonial washings, each holding twenty to thirty gallons. I told the waiters, "Fill the jars with water." So they filled them to the brim. Then I said, "Draw some out now and take it to the headwaiter." So they took it. And when the headwaiter tasted the water that had become wine, without knowing where it came from (although the servers who had drawn the water knew), the headwaiter called the bridegroom and said to him, 'Everyone serves good wine first, and then when people have drunk freely, an inferior one; but you have kept the good wine until now.'" (John 2:1-10)
This was the first of my signs at Cana in Galilee. With this miracle, I began my public ministry and my disciples believed in me.
Later, several disciples and I went to Jerusalem to celebrate the Jewish Passover. We visited the temple and saw a number of merchants selling oxen, sheep and doves to visitors for their sacrificial offerings. Even money-changers were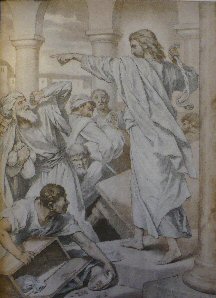 there advertising their special bargains to visitors who were required to change their money into the temple coinage. Of course there was a "fee."
" . . . In the temple precincts he came upon people engaged in selling oxen, sheep and doves, and others seated changing coins. He made a kind of whip of cords and drove sheep and oxen alike out of the temple area, and knocked over the money-changers' tables, spilling their coins. He told those who were selling doves: "Take these out of here! Stop turning my Father's house into a marketplace!" His disciples recalled the words of Scripture: "Zeal for your house consumes me." (John 2:14-17)
Naturally there was an uproar, and the people demanded that I show them proof that I had authority to do this.
Jesus answered them, "Destroy this temple and in three days I will raise it up." The Jews said, "This temple has been under construction for forty-six years, and you will raise it up in three days?" But he was speaking about the temple of his body. Therefore, when he was raised from the dead, his disciples remembered that he had said this, and they came to believe the scripture and the word Jesus had spoken. (John 2:19-22)
My teaching continued, and I taught my followers how to pray, saying . . . "Our Father in heaven, hallowed be your name, your kingdom come, your will be done on earth as it is in heaven. Give us today our daily bread, and forgive us the wrong we have done as we forgive those who wrong us. Subject us not to the trial but deliver us from the evil one." (Matthew 6:9-13)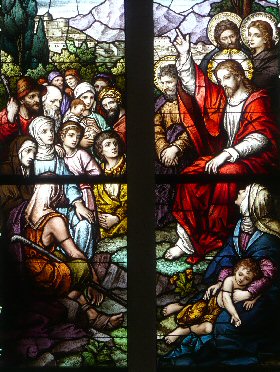 I taught them about other things that please my father . . .
Blest are the poor in spirit: for theirs is the kingdom of heaven.
Blest are they who mourn: for they will be comforted.
Blest are the meek: for they will inherit the earth.
Blest are they who hunger and thirst for holiness: for they will be satisfied.
Blest are the merciful for they will be shown mercy.
Blest are the clean of heart, for they will see God.
Blest are the peacemakers, for they will be called children of God.
Blest are those persecuted for the sake of righteousness, for theirs is the kingdom of heaven.
Blest are you when they insult you and persecute you and utter every kind of evil against you falsely because of me. Rejoice and be glad, for your reward will be great in heaven. (Matthew 5:3-11)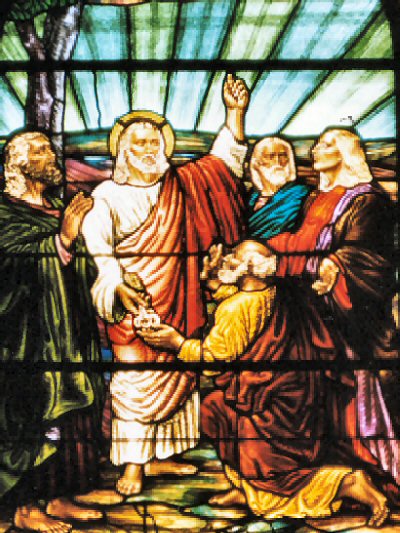 I formed my Church with Peter as its head. The other apostles became the first bishops who assisted in spreading my gospel and in teaching and ordaining new priests. Through the worthy reception of its sacraments, all members share in the infinite graces earned by my redemptive act.
"I for my part declare to you, you are 'Rock,' and on this rock I will build my church, and the jaws of death shall not prevail against it. I will entrust to you the keys of the kingdom of heaven. Whatever you declare bound on earth shall be bound in heaven; whatever you declare loosed on earth shall be loosed in heaven." (Matthew 16:18-19)
My mission to teach everyone about God's kingdom led me and my disciples to pass through Samaria and stop at the well of Jacob, who was an earlier Jewish Patriarch. Now, Samaritans were not liked by the Jews because at the time when they had been as slaves by the Babylonians to Babylon, their land was resettled with non-Jews who did not know their God, Yahweh. Later, when the Jews were freed to return to their homeland, the Samaritans refused to worship the God of the Jews, nor did they assist in rebuilding the city, its walls, or its temple.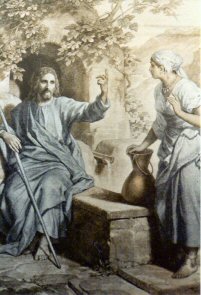 As I rested at the well, ". . . a woman of Samaria came to draw water. I said to her, 'Give me a drink.' She replied, 'How can you, a Jew, ask me, a Samaritan woman, for a drink?' I said, 'If you knew the gift of God and who is saying to you 'Give me a drink.' you would have asked him and he would have given you living water," The woman responded, 'Sir, you do not even have a bucket and the cistern is deep; where then can you get this living water?' Jesus answered and said to her, "Everyone who drinks this water will be thirsty again; but whoever drinks the water I shall give will never thirst; the water I shall give will become in him a spring of water welling to eternal life." (John 4:7-14)
The woman said to him, "I know that the Messiah is coming, the one called the Anointed; when he comes, he will tell us everything." Jesus said to her, "I am he, the one who is speaking with you." (John 4:25-26)
I worked cures on the Sabbath and although many came to believe, saying that I was

the Messiah, the Jewish leaders said among themselves:

"What are we going to do with this man performing all sorts of signs? If we let him go on like this, the whole world will believe in him. Then the Romans will come in and sweep away our sanctuary and our nation." From that day onward there was a plan afoot to kill him. (John 11:47-48,53)
The people heard my teaching and saw the great works I showed them as signs, but still they did not understand! One day, the Jews gathered around me and said,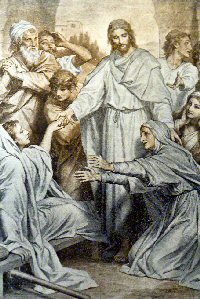 "How long are you going to keep us in suspense?" If you are the Messiah, tell us plainly." Jesus answered them, "I told you and you do not believe. The works I do in my Father's name testify to me. But you do not believe, because are not among my sheep. My sheep hear my voice; I know them, and they follow me. I give them eternal life, and they shall never perish. No one can take them out of my hand. My Father, who has given them to me, is greater than all, and no one can take them out of the Father's hand. The Father and I are one." (John 10:24-30)
Some Jews again picked up stones to stone him. Jesus answered them . . .
"I have shown you many good works from my Father. For which of these are you trying to stone me?" The Jews answered him, "We are not stoning you for a good work but for blasphemy. You, a man, are making yourself God" Jesus answered them, "Is it not written in your law, 'I said, "You are gods"'? If it calls them gods to whom the word of God came, and scripture cannot be set aside, can you say that the one whom the Father has consecrated and sent into the world blasphemes because I said, "I am the Son of God'? If I do not perform my Father's works, do not believe me; but if I perform them, even if you do not believe me, believe the works, so that you may realize that the Father is in me and I am in the Father." (John 10:31-38)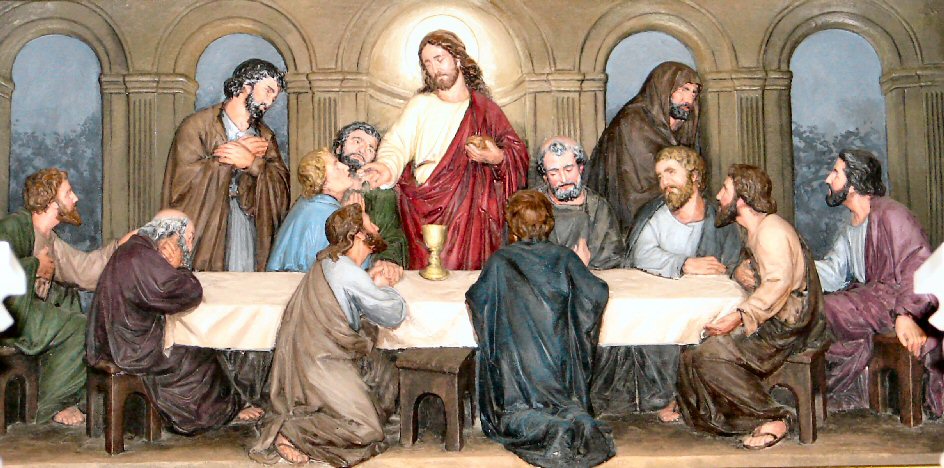 The day before I gave glory to my Father and accomplished man's redemption, I dinned with my disciples for a final meal. Then, taking bread and giving thanks, I broke it and gave it to them, saying:
"This is my body to be given for you. Do this as a remembrance of me." He did the same with the cup after eating, saying as he did so: "This cup is the new covenant in my blood, which will be shed for you." (Luke 22:19-20)
I knew that the moment to fulfill my mission as redeemer had arrived and I said: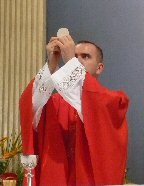 "Whoever puts faith in me believes not so much in me as in him who sent me; and whoever looks on me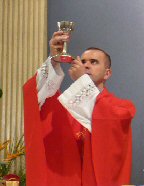 is seeing him who sent me. I have come to the world as its light, to keep anyone who believes in me from remaining in the dark. If anyone hears my words and does not keep them, I am not the one to condemn him, for I did not come to condemn the world but to save it. Whoever rejects and does not accept my words already has his judge, namely, the word I have spoken - it is that which will condemn him on the last day. For I have not spoken on my own; no, the Father who sent me has commanded me what to say and how to speak. Since I know that his commandment means eternal life, whatever I say is spoken just as he instructed me." (John 12:44-50)
I told my disciples . . .
"If you love me and obey the commands I give you, I will ask the Father and he will give you another Paraclete - to be with you always: The Spirit of truth whom the world cannot accept, since it neither sees him nor recognizes him . . ." (John 14:15-17)
" . . . the Paraclete, the Holy Spirit whom the Father will send in my name, will instruct you in everything, and remind you of all that I told you." (John 14:26)
"When the Paraclete comes, the Spirit of truth who comes from the Father - and whom I myself will send from the Father - he will bear witness on my behalf. You must bear witness as well, for you have been with me from the beginning." (John 15:26-27)
Finally, I told my disciples:
"Yet I tell you the sober truth: it is much better for you that I go. If I fail to go, the Paraclete will never come to you, whereas if I go, I will send him to you. When he comes, he will prove the world wrong about sin, about justice, about condemnation. (John 16:7-8)
"About sin - in that they refuse to believe in me; about justice - from the fact that I go to the Father and you can see me no more; about condemnation - for the prince of this world has been condemned. I have much more to tell you, but you cannot bear it now. When he comes, however, being the sprit of truth he will guide you to all truth. He will not speak on his own, but will speak only what he hears, and will announce to you the things to come. In doing this he will give glory to me, because he will have received from me what he will announce to you. All that the Father has belongs to me; for this reason. That is why I said that what he will announce to you he will have from me." (John: 16:9-15)
"I gave them (my disciples) your word, and the world hated them, because they do not belong to the world anymore than I belong to the world. I do not ask that you take them out of the world but that you keep them from the evil one. They do not belong to the world any more than I belong to the world. Consecrate them in the truth. Your word is truth. As you sent me into the world, so I sent them into the world. And I consecrate myself for them, so that they also may be consecrated in truth." (John 17:14-19)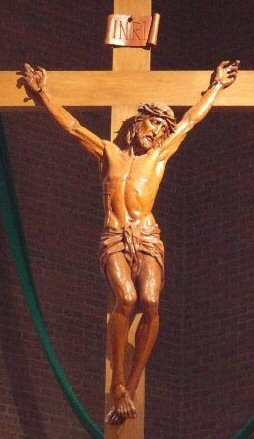 After promising my disciples the gift of the Paraclete (Holy Spirit), I gave myself up to be arrested, beaten, humiliated and crucified at the hands of the lawless men who carried out the judgment of Pilate, the desires of the Chief Priest and religious leaders of the people.
And thus, the Redemption of humanity for the Father was accomplished! It is everyone's responsibility to cooperate
with the Holy Spirit of love which I have offered. It has been given to all, and it is through whom everyone is led along the path of holiness to the Father. Each person must desire to live in this love shared between the Father and myself.
The spirit of love will dwell in your hearts and will be recognized by God the Father on the last day.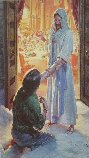 By carrying out what I have told you, holiness and my love will increase in you. The spirit of love will dwell in your hearts and will be be recognized by God the Father on the last day.
Then, those who have longed for and merited heaven will hear the words: "Well done! You are an industrious and reliable servant. Since you were dependable in a small matter, I will put you in charge of larger affairs. Come, share in your master's joy! (Matthew 25:21)